Telemedicine Consultation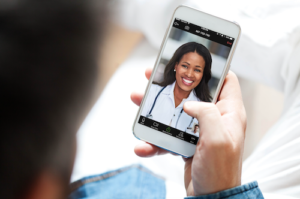 We want to be able to continue offering the quality care and individual attention that our patients deserve while taking every necessary step to ensure health and safety. That's why we're now offering TeleHealth sessions so that our doctors continue to be responsive to our patients, wherever they are.
Does insurance cover a TeleHealth appointment?
In most cases, particularly in light of the COVID-19 pandemic, insurance will likely cover virtual appointments. Contact your provider to learn whether you're covered.
What do I need to conduct a telemedicine appointment?
All you need is a phone, tablet, or computer with internet access and audio/video capability. We are currently taking appointments through Zoom, a secure, HIPAA-compliant platform. You will receive a unique, secure link via e-mail, no sign-up or app installations required.
How does it work?
A telehealth session is a live, face to face consultation between you and your doctor, and works basically the same way that a regular visit to our office would. To set up an appointment, call our office at 201-567-8999 or use our appointment request form and select "Telemedicine Consultation."
Schedule Your Appointment Today